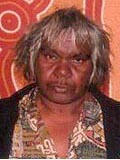 Jeannie was born circa 1950 on the Boundary Bore Outstation in Utopia, in Central Australia. She is the sister to well known artists Greeny Purvis Petyarre, Evelyn Pultara, Rosemary Petyarre and Anna Price Petyarre and the cousin of Gloria, Nancy, Myrtle, Kathleen, Violet, Ada Bird and Jeanna Petyarre. Jeannie's Aunt is the famous Emily Kame Kngwarreye.
Jeannie began painting in the eighties and in 1988 she was part of a group of women who produced Batik work using desert design on silk and cotton. Jeannie was encouraged by her aunt, Emily Kngawarreye to continue to paint her families Dreaming stories including Bush Medicine, Bush Yam Dreaming, Pencil Yam Dreaming and Wildflower Dreaming.
Jeannie continues to live at Utopia located approximately 300 kms north east of Alice Springs in the Northern Territory. Her works have been exhibited in a number of group exhibitions and is held in many collections. In 1990, her work was featured in the Holmes a Court Collection. Jeannie is a highly respected artist within her Community who promotes her culture, country, seasons and ceremony through her paintings. Jeannie Petyarre's work is sought after by collectors Worldwide.