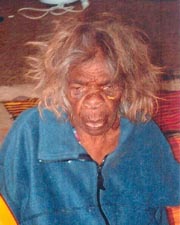 Born circa 1930 in the area of Karrkurritinytja (lake Macdonald), and is a senior Pintupi woman now living in Kintore, Central Australia. Makinti Napanangka commenced painting for the Papunya Tula Artists in 1996 but had already painted with acrylics on canvas during the Kintore and Haasts Bluff project in 1993 / 1994. Apart from an enforced break after having a cataract removed from her eye in 1998, she has continuously painted.
Her art is characterised by a more spontaneous approach in illustrating the traditional iconography than that done by previous artists painting at Papunya. She often paints stories about the Kungka Kutjarra (Two Women), ancestors, whose pathways cover huge distances over hundreds of kilometres. These journeys over through the changing landscape include ceremonial sites and areas where food and water were found. Makinti's style of art is quite different from that of her contemporaries and is not concerned with the dot style of artwork.
Many of her works depict hairstring skirts (made from human hair), and belts worn by women during certain ceremonies. These are usually represented as parallel lines in distinct colours often yellow and oranges.
Makinti Napanangka's work is very popular and highly sought after.